The Blue Jays announced Monday morning that former Astros general manager James Click has been hired as their new vice president of baseball strategy.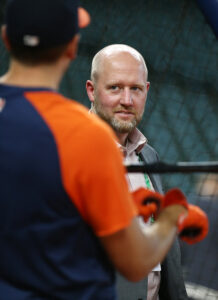 In Click's new role, he'll work "closely with general manager Ross Atkins and department heads on strategic planning, decision making, and evaluation." Click will also "work across both professional and amateur levels to identify best practices, develop plans, and implement strategies."
The Astros rather surprisingly moved on from Click just weeks after winning the 2022 World Series. Reports of mounting friction between Click and team owner Jim Crane began to surface late in the 2022 regular season, and upon conclusion of the postseason, Click put forth a one-year extension offer that was generally viewed as a token offer that never stood a chance of being accepted. Houston spent most of the offseason operating without a general manager before hiring now-former Braves vice president of scouting Dana Brown to fill that vacancy in January.
There's been little doubt that Click would land on his feet with another club. His three-year stint as the general manager in Houston resulted in three playoff berths, after all, two of which (2021-22) saw the 'Stros take home the American League pennant. While it's only fair to acknowledge that the prior front office regime, headed by Jeff Luhnow, laid the groundwork for a good deal of that success with acquisitions/signings of stars like Yordan Alvarez, Jose Altuve, Alex Bregman and others, Click oversaw trades acquiring Kendall Graveman and Rafael Montero, signed free agents like Hector Neris and Ryne Stanek, and was in the GM seat for extensions of both Ryan Pressly and Alvarez.
Prior to his that three-year run with Houston, Click spent 15 years in the Rays organization. The Yale graduate first joined Tampa Bay as a baseball operations coordinator back in 2006 and slowly made his way up the organizational ladder, spending time with most departments along the way before eventually being tapped the Rays' vice president of baseball operations in 2017. He held that post for three years before being hired away by Houston in the fallout from MLB's investigation into the Astros' sign-stealing scandal.
The Blue Jays didn't specify a length on Click's contract, though it stands to reason that regardless of contract length, he'll again emerge as a candidate for teams seeking either a general manager or president of baseball operations in the future. It's a relatively similar situation to the one that brought Ben Cherington to the Jays for a few years. Cherington, the former Red Sox GM, was hired as a vice president of baseball operations in Toronto back in 2016, less than a year removed from being ousted in Boston. He held that post through the fall of 2019, when the Pirates hired Cherington as their new general manager.
Any future GM/president appointments for Click will obviously depend on his own appetite for returning to a position with baseball autonomy and the slate of candidates he finds himself interviewing against, but at the very least there will surely be interest in a 45-year-old exec with 15 years of experience in one of the game's model baseball ops departments (Tampa Bay) and a three-year run in Houston that included three playoff berths, two World Series appearances and a World Series championship.